---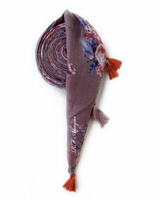 Sale
The Cotton Florals with Tassels from RF Abayas is a beautiful and versatile hijab that is perfect for any occasion. It is made of a soft and lightweight cotton fabric that is comfortable to wear all day long. The hijab features a delicate floral print with tassels around the edges, adding a touch of elegance and sophistication.
The Cotton Florals with Tassels hijab is available in a variety of colors, so you can find the perfect one to match your outfit. It is also easy to style and can be worn in many different ways. You can wear it draped over your shoulders, tied around your neck, or even used to create a headscarf or turban.
No matter how you choose to wear it, the Cotton Florals with Tassels hijab is a stylish and fashionable way to cover your head. It is also a great choice for women who live in warm climates, as the cotton fabric is breathable and will keep you cool and comfortable.

Size - 180 x 90 cm